Previous events
Kochanski's Concertina Beer Hall, 1920 S. 37th St. (37th and Burnham), Milwaukee, WI
$10
Kochanski's Concertina Beer Hall, 1920 S. 37th St. (37th and Burnham), Milwaukee, WI
It's the crazed country of Honky Tonkitis vs. the shockahilly rock of the Rockabilly Rebels! The night gets even stranger because Honky Tonkitis will have Danny Moore joining them on piano for the evening! Sure to be a night that you'll remember as a musical roundhouse to your jaw!
Cover Charge
Kochanski's Concertina Beer Hall, 1920 S. 37th St. (37th and Burnham), Milwaukee, WI
Honky Tonkitis is back! Come to Kochanski's to see us take on the Brad Arndt Band on dueling stages all night long!
Cover Charge
Alcohol & Heartbreak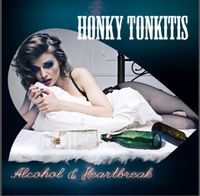 Old time country music, with all of the wit and smart-ass wordplay you can stand. The songwriting on this third album is even better than before. Minor lineup changes, with Johnny Maplewood switching to upright bass and the addition of Don Turner on squeezebox, help to give the album that real Bakersfield sound.   -Jon Blick: Overnight Sensations DJ, WMSE Picks of 2012
What are YOU gonna do with a year and-a-half since your last album? Drink? Not if you're Honky Tonkitis! These guys are gonna DRINK and WRITE and RECORD seventeen more songs about drinking! And heartbreak! What do you call it? Alcohol & Heartbreak!
Honky Tonkitis' third album brings new music (17 new songs, in this case) and a new band member (accordion player Don Turner).
Still the same happy music about the worst times of your life. What could be better to listen to when you're at the bar, at home, or being yelled at by your wife?
First, there's the beer: Brand-new classics about everyone's favorite alcohol with titles like "Pabst in the Can and Schlitz in the Bottle" and "Kiss My Heineken."
Next, there's the odes to the honky tonk greats: "What Would George Jones Do," "Johnny Cash Would Kick Your Ass" and "Praying in the House of Hank."
Followed by the tributes to the bar: "I Wanna Marry A Bartender," "Tavern of Love," "Congratulations, You're a Loser," and "Most of My Friends Are Behind Bars."
Don't forget divorce: "Snap-On Fool," "Alimony Is A Four Letter Word," "It Only Hurt A Little," and "Why Don't You Understand Me."
And finally, songs about drinking: "I'm Ready to Drink," "I Only Drink to Fall Down," "I'm Gonna Drink Milwaukee Dry," and "Down and Drunk."
What more could you ask for from a honky tonk band?
Sit back, pop a top, cue up the "Alcohol and Heartbreak," and get ready to salve your aching soul.
Bartender tested, drinker approved!
Buy this CD at CD Baby
Buy this CD at CD Baby
Buy this CD at CD Baby
Deep End of the Bottle
"The second album by the Milwaukee band Honky Tonkitis continues to mix equal parts snark and twang into something resembling a Bizarro World set at the Grand Ole Opry. Singer Johnny Maplewood's twisted sense of humor about matters of inebriation and fornication fits to the pedal-steel template of Webb Pierce and Ray Price serenades of heartbreak and drunkenness. However, Honky Tonkitis isn't all cheek at the expense of substance. It's not too far of a stretch to imagine big-time traditionalists in today's commercial country like Alan Jackson and George Strait covering "If It's Paradise." On the other hand, tunes such as "Which Are You First: Drunk or Stupid" and "Jukebox, You Suck" seem destined to remain in the band's own domain—but that's all the more reason to appreciate their unique take on how to make country alt."  
 Jamie Lee Rake, ExpressMilwaukee.com
After the success of their first album, "You Drink and Drive Me Crazy," Honky Tonkitis busts out a year and a half later with their second album, "Deep End of the Bottle," a further study in alcohol and heartbreak. The core twang is still there: Chris Conrad on his electric and baritone guitars, Jason Ploetz on the upright bass (if he ever falls down he can't be replaced), Tom Hanson on the crying fiddle, Kurt Weber on the amazingly small but amazingly loud drumset, and John Steffes' baritenor tune crooning. The band's enlisted Gabriel Stutz from beautiful Chicago to add his classic, crying pedal steel tones to this recording.

The songs are once again sad, comical and drunken, yet upbeat: the radio friendly "C'mon, Baby, Get it Off Your Chest," the rockabilly-inspired "Half-Ass Heartache," the generational anthem, "Jukebox, You Suck," and the new bitter classic, "I'm Leaving Wisconsin" propel this 16-song album into memorable, hook-laden areas of your heart yet to be touched by copious amounts of alcohol.

Sit back, pop a top, turn on the tunes, and get ready to salve your aching heart. She ain't left you, she's just looking for the proper moment to come back and get the rest of her stuff. This album will get you through the waiting.
_
Itunes
_
You Drink and Drive Me Crazy

Classic honky tonk, full of alcohol and heartbreak, slurring redemption, and plans to get up off the floor tomorrow and win back your love, just as soon as this pitcher is empty. Honky Tonk-itis brings back that honky tonk music your grandpa and daddy listened to when you were a kid; whether it's loving odes to your favorite beer (P-B-R my A-S-S), commiserating over a lost love at the bar (Pour Me), or fighting to take life by the horns while holding a half-empty bottle (Heavy Lifting Calls For Heavy Drinking), Honky Tonk-itis brings back the glory days of life spent plugging the jukebox while hiding from your old lady in a smoky old joint down the block.
_
Itunes