Previous events
Kochanski's Concertina Beer Hall, 1920 S. 37th St. (37th and Burnham), Milwaukee, WI
$10
Kochanski's Concertina Beer Hall, 1920 S. 37th St. (37th and Burnham), Milwaukee, WI
It's the crazed country of Honky Tonkitis vs. the shockahilly rock of the Rockabilly Rebels! The night gets even stranger because Honky Tonkitis will have Danny Moore joining them on piano for the evening! Sure to be a night that you'll remember as a musical roundhouse to your jaw!
Cover Charge
Kochanski's Concertina Beer Hall, 1920 S. 37th St. (37th and Burnham), Milwaukee, WI
Honky Tonkitis is back! Come to Kochanski's to see us take on the Brad Arndt Band on dueling stages all night long!
Cover Charge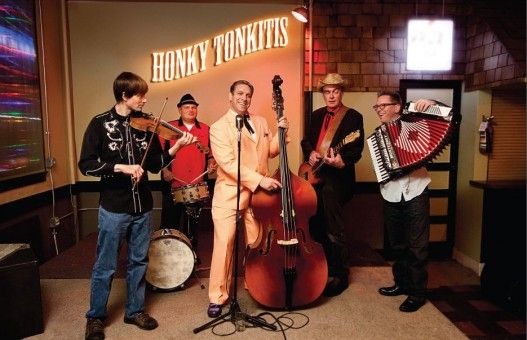 The band was great Saturday night. I heard many great comments and everyone wants to know where you're playing next. Thanks again and if i do say, it was a great wedding and a great band playing!!!!!
-Diana
Honky Tonkitis is honky tonk served the way it used to be: tunes about losers and failures and drinkers who come to the bar to lick their wounds and dream of getting back on top again. This is what honky tonk was for musicians like Hank Williams, Ray Price, Faron Young, George Jones and Johnny Cash. Somewhere along the line that image got lost, Country music got "prettified" and the whole concept of music for losers got flushed from the bathrooms of our hearts.
Honky Tonkitis brings back that honky tonk music your grandpa and daddy listened to when you were a kid; whether it's loving odes to your favorite beer (P-B-R my A-S-S), commiserating over a lost love at the bar (Pour Me), or fighting to take life by the horns while holding a half-empty bottle (Heavy Lifting Calls For Heavy Drinking), Honky Tonkitis brings back the glory days of life spent plugging the jukebox while hiding from your old lady in a smoky old joint down the block.
Honky Tonkitis has been playing live shows in the Wisconsin area since 2008. Along the way we've hit such big name venues as Wisconsin State Fair and Bastille Days, as well as your favorite watering holes such as Bay View Brew Haus and Kochanski's Concertina Beer Hall, to name just a few. Our live shows have a reputation for being obnoxious, cantankerous, and confrontational, and that's just the audience! We live for being assaulted by the drunken fools in the crowd who feel they need to be the center of attention. It's our goal to make them regret that decision. For those of you who like your music like your drinks (strong, long, and with a lotta bite), Honky Tonkitis is your kind of band. We are available for private performances. Just contact us by e-mail at honkytonkitis@yahoo.com.
Members of the band:
Johnny Maplewood (Vocals, Upright Bass) Also a current member of the group King Comets (jump swing music). Johnny's been playing in groups since he was a teenager, everything from hardcore punk (Necromantx) to pop rock (FS Camels) to album rock (Naked Truth) to prog rock (Take My Face). Along the way he's gotten to open for such big groups as the Beat Farmers (they gave him a free set of bass strings), Bad Company (they had his band open for them at the Riverside Theater), the Indigo Girls (they had him kicked out of the back stage area of Summerfest), and Smashing Pumpkins (they got him evicted). Whatever the experience, Johnny's enjoyed them all.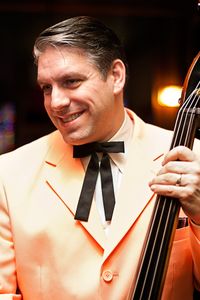 Bruce Dean (Electric/Baritone guitar, vocals) - Bruce and Johnny go way back to the nineties with a power pop trio they were in called Girl Crazy. Bruce went on to have great success in the Irish band Reilly, contributing to three CD's they put out.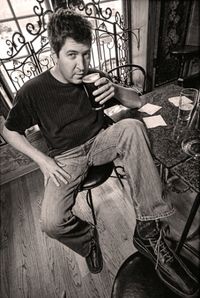 Kurt Weber (Drums) - A current member of the groups Shattered (Rolling Stones covers) and Kinda Kinks (Kinks covers). Kurt's a must-have pick-up drummer with any number of groups, and he's got the bounced checks to prove it.
Don Turner (Accordion) - Don started on sax as a kid. Amazingly, he only picked up the accordion ten years ago. He's played with such great bands as Dynaflow and the Roadmasters along the way, as well as the Nelsonics. Currently, we're sharing Don with the ska band the Tritonics, where Don continues to work his sax chops.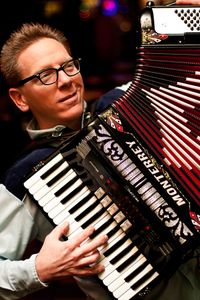 Larry Gard (Fiddle) - Long time member of John the Conqueroo. Larry's another one of those players who's name shows up all over Milwaukee whenever you need a pick-up fiddle player.